Halloween makeup effect is more difficult to draw?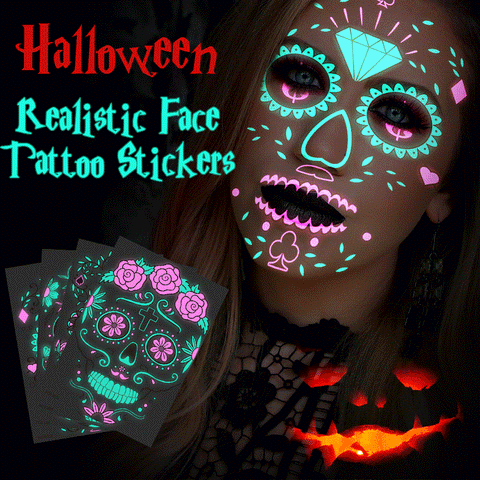 This product allows everyone to get the perfect Halloween makeup effect, satisfying your different makeup looks. Specially designed for Halloween, role-playing and other parties.
MAIN FEATURES
☆[Safe Tattoo Stickers]
The tattoos are are made of transfer paper, non-toxic and no harm to skin, suitable for face,cheek,arm, hand ,ankle or anywhere of your body. Just be careful for sensitive skin!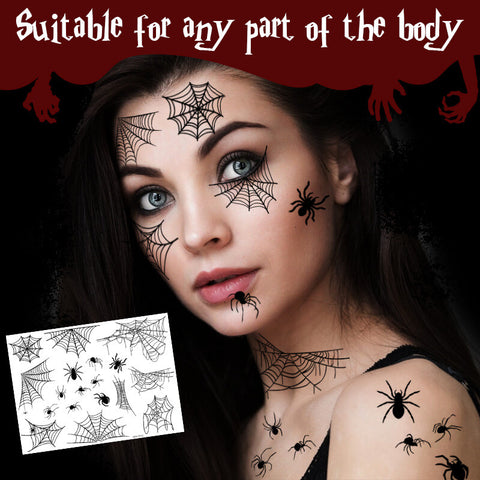 ☆[Multiple Styles]
22pcs halloween party decorations, including 4 luminous facial tattoos, 9 colorful facial tattoos, 9 spider web tattoos, assorted colors and unique designs each sheet has most of the Halloween factors such as skeletons, flowers, spider webs, spiders, roses and other patterns.You would be the unique one at your party.
☆[Long-Lasting & Waterproof]
This tattoos made by newest technology, waterproof, sweat-resistant and hold much well on skin, long lasting for the whole day, the best choice for beach or pool party.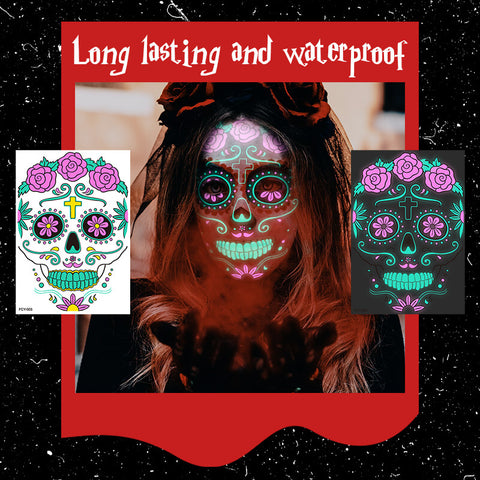 ☆[Easy To Apply And Remove]
Just use a wet wipe or sponge to pat the wet paper until it is completely soaked, wait for 35-50 seconds, let it dry naturally, and tear it off. Easily be removed by rinsing image with water, household alcohol or baby oil for 15-20 seconds.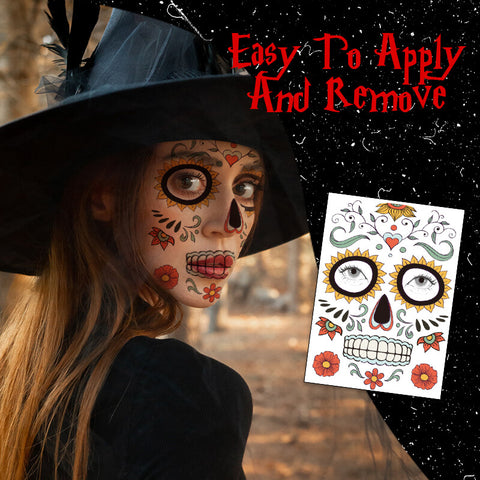 ☆[Various Occasions]
Great for parties, club nights, Halloween, gatherings, daily wear, going shopping, wear at beach or swimming pool, concerts, cosplays, birthdays, photoshoots, arts & crafts projects and more. Create your own unique style!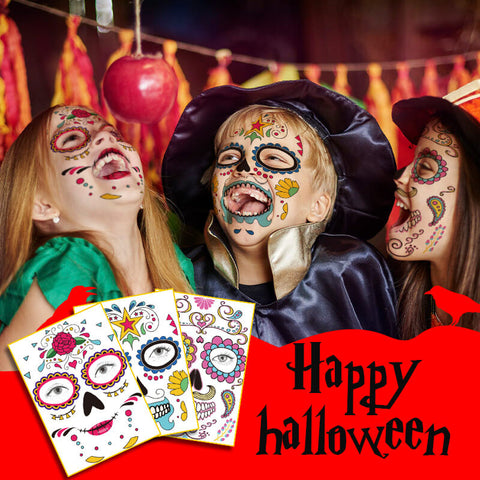 Application:
1. Cut out the design and remove the transparent paper cover.
2. Place temporary tattoo face down on your skin.
3. Soak a sponge with regular water and wet the surface of the tattoo thoroughly and wait 20-30 seconds.
4. Gently lift corner of temporary tattoo to check if it is transferring. If it has transferred, gently peel off paper. If not, press down and wet again.
5. Remove the paper and enjoy the beauty of your temporary tattoo.
Removal:
1. Rub the temporary tattoo with alcohol or makeup remover or cold cream or baby oil and then wait 10 seconds.
2. Rub again gently and repeatedly until the tattoo has disappeared or by scrubbing it off with soap and water.
SPECIFICATIONS
Material: Ink + transfer paper
Package Includes: 1 x Luminous Facial Tattoo( 4 PCS / SET ) Or 1 x Spider Tattoo( 9 PCS / SET ) Or 1 x Color Face Tattoo( 9 PCS / SET )