Turn the next meal into a nice decoration
A dessert decoration pen is a pen for decorating dishes and trays to bring out the full beauty of the dish being served. Fill it up with liquid and start painting as if you were working on a canvas.

With practice, you can draw beautiful lines and patterns on the trays, or decorate the food so that it looks exquisite and delicious. The appearance enhances the taste of any dish you are going to decorate.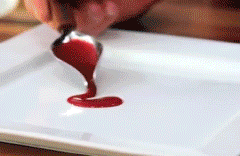 Product benefits
✅Delicious finishing touches - The better it looks, the tastier it will be. Turn the boring dessert into an artful dish to stun the guests.

✅Rotate the tray onto a canvas - Beautiful shapes and lines are easy to draw with the feather spoon. Every delicious meal deserves a decoration.

✅Greatly improves the taste - The presentation is part of the experience!
The dessert decoration pen adds a nice look to stimulate flavor.

✅Dessert decorating pen is the ultimate choice - put some liquid in the pen and start drawing. Dessert decoration pen enchants every meal with delicious beauty.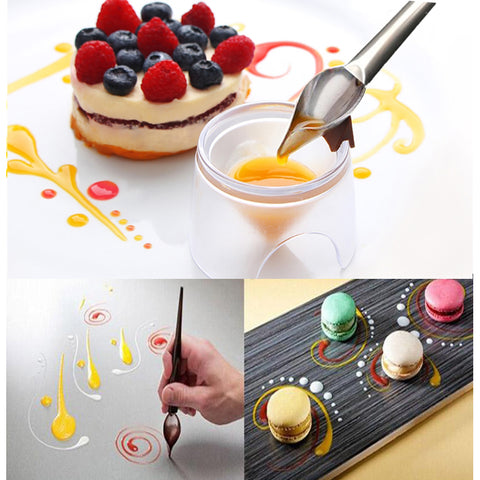 characteristics:
Multiple-use: perfect for decorating dessert sauces, salad dressing, chocolate, and more.

HIGH QUALITY: Made of high-quality stainless steel material, non-toxic, rustproof, corrosion-resistant, solid, and durable to use.

Clever design: the long handle is practical to transport the sauce in the desired direction. With the mouth of the spoon, you can achieve any pattern you want when distributing the sauce.

Different size: we use two sizes: small spoon for thin lines, large spoon for thick lines, large size (22 * 4 * 0.8cm), small size (18 * 2.8 * 0.3cm). With the different sizes, you can let your imagination run free and create any pattern you want.
Specification:
Size of the color: S / L

Length: 18.6cm / 22cm

Weight: 0.031kg / 0.04kg

Material: stainless steel
Tip:
Please allow 1-3cm measurement deviation due to manual measurement.
Due to the different monitor and lighting effects, the actual color of the item may be slightly different from the color shown in the pictures.