???This Galaxy Forever Rose has been inspired by the classic "Beauty and the Beast" and is quickly becoming our most popular roses...The flower has been encased in a crystal clear and durable glass dome to allow its beauty to show through. This sexy rose is the symbol of eternal love for your sweetheart. 
Highlights:Handmade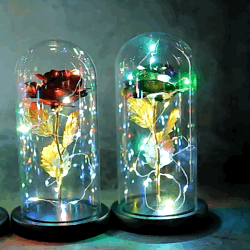 ? PERFECT GIFT FOR ANYONE – Galaxy rose flower gift crystal from beauty and the beast rose in glass dome is an eternal gift for anyone and any occasion.

? BRIGHTEN ANY ROOM – This galaxy forever rose for women ads life and fun to any room! Crystal rose glass flowers are eye catching and beautiful!

? GIFT OF FOREVER LOVE – An Infinity rose flower will last forever. Golden rose crystal flower is an artificial rose in glass dome that never dies.

? ADD MAGIC TO HER DAY – Enchanted rose flowers bring magic and dreams! Find magic in our eternal rose in glass dome with LED fairy lights.

? COLORFUL AND BRIGHT – Galaxy rose eternal flower stem + real wood base. Get your galaxy dose of roses today!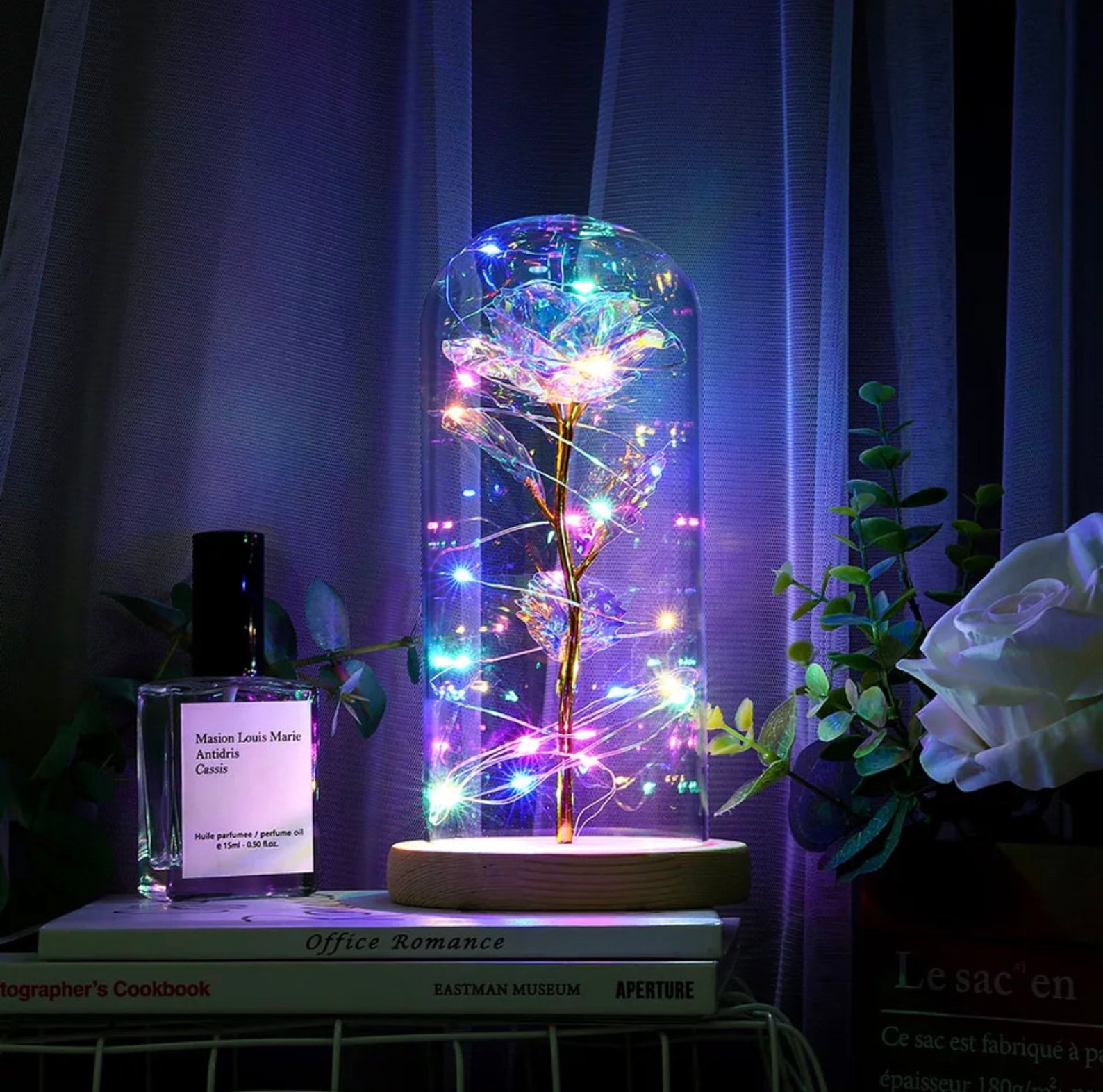 Add Some Magic to Her Day
This galaxy rose flower lights up and adds magic to any room. The light is elegant and beautiful while also fun and whimsical. Make her feel like a princess in her own home.

The Gift of Everlasting Love

Regular roses wither and fade within 2 weeks. Our galaxy rose will last you a lifetime, just like your love. This is a gift that will remind her daily of her beauty and the love you share.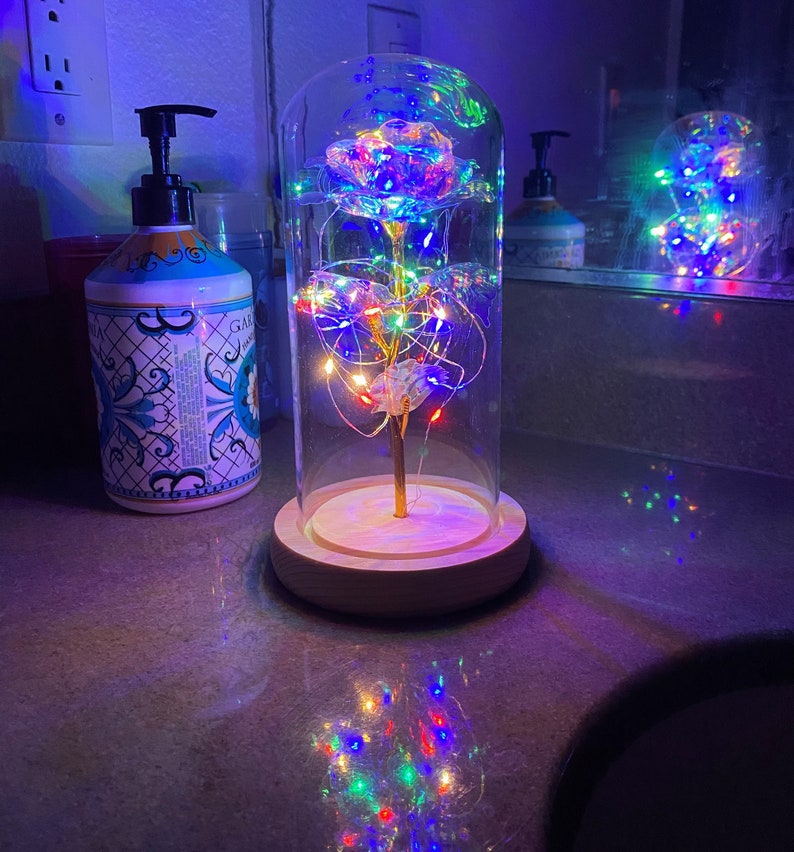 Colorful and Bright
Multicolored and dazzling with galaxy and space colors, this light will brighten her mood and add a focal point to her room or party.

Love It Or Your Money Back - 100% Guarantee

We provide secure packaging, however if your rose is damaged or broken we will fully refund or replace it. If you are not fully satisfied with your purchase, simply contact us and we will make it right!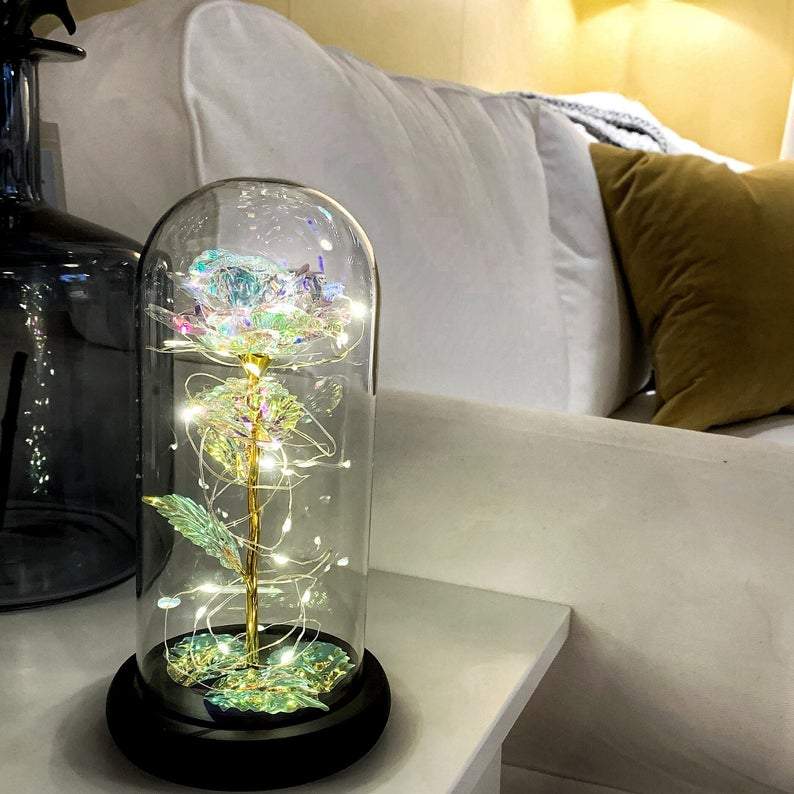 Galaxy Rose Flower Gift - Beauty and the Beast Rose In Glass Dome with LED Fairy Lights - Powered by 3x AAA Batteries (Not Included) The Perfect Gift For Teen Girls and Women

Specifications:

Color: Multicolored / Rainbow / Galaxy Crystal Rose

Weight: 1.2 lbs

LED Quantity: 20 Lights

Material: Glass, Wood, Plastic

Powered By: 3x AAA Batteries (Not Included)

Size: Height 8" x Diameter 3.5" Thickness of Glass 0.2"