High-efficiency adhesive developed as an alternative to torch welding, it can repair metals and many other surfaces firmly and lastingly.
Main Features
Versatile And Dependable
It is steel reinforced, has a tensile strength of 3127 psi and can withstand temperatures up to 302 degrees Fahrenheit (150 degrees Celsius). When fully cured, it is waterproof and resistant to petroleum, chemical, and acid.
Simple And Easy


Big

or Small, you can DIY it with this magic welding glue. Our heavy-duty epoxy and adhesives repair & restore it right the first time. It will bond almost any clean surface that is free of dirt and oil. Just mix, apply and let dry for a few hours.
Cure And Set Time
After mixing the tubes at a 1: 1 ratio, it takes 6 minutes to set and 4-6 hours to cure. Once cured, it forms a strong and stable permanent bond, which should be used for many years. It can be tapped, filed, sanded, molded, and drilled.
Usage Scenarios
Surface Applications: Metal, Plastic, PVC, Concrete, Wood, Ceramic & Tile and Fiberglass.
Use On: Household, Automotive, Marine, Plumbing, Crafts, Outdoor Equipment, Agricultural Equipment, Motorcycle, Toys, Boats, Personal Watercraft, In/Outboard Engines and Deck & Hull Accessories.
Specifications
Product Weight
Product Size
(L x W x H)

10 × 10 × 5 cm / 3.9 × 3.9 × 2 inches

Volume ratio
A: B = 1: 1
Full curing time
12 hours【25 °C(77 °F))】
Overall performance
Gray muddy paste
Tenperature resistance
~60 

°C

- 150 

°C

【-76 

°F - 302 °F

】
Hardness
80 (Shore-D)

Shear strength

> 20 mpa (200 kg / M2)

Package Contents

Metal Cast Iron Magic Repair Glue (A+B) × 1 Set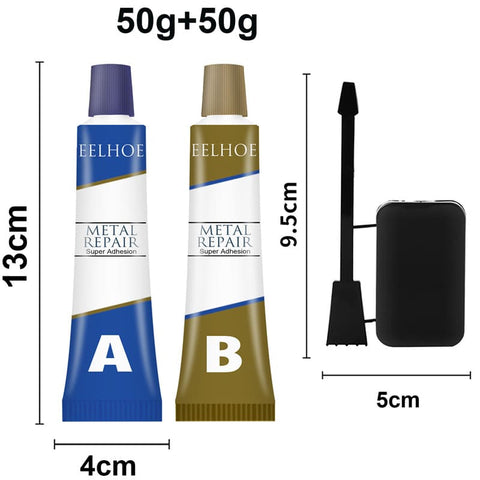 Using Methods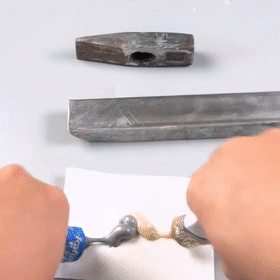 1. First of all, we will find out the place to be cleaned, with no stain.
2. The surface treatment is smoothed with a file, sandpaper, and other tools.
3. The volume ratio of component A and component B is 1:1, which is fully uniform and applied to the object to be repaired.
4. After 24 hours of bonding, all kinds of processing can be carried out.
Note
Storage condition Stored in the temperature range of 15-28 C, the shelf life is 24 months. 
Due to the different display and lighting effects, the actual color of the item may be slightly different from the color displayed on the picture.