Have you also encountered because the knife becomes dull, can not cut the ingredients, buy a new knife, or sharpen your own knife at home, but because those sharpeners are not good operation, the damage to the knife is also large situation?
Our Multifunctional Knife Sharpener For Home Use can perfectly solve these problems, it combines efficient and fast, simple operation, scientific grinding, safe sharpening in one.
Main Features
High Quality
The sharpening head is made of three outstanding hard materials: steel sand, tungsten steel and ceramic, and it can sharpen knives quickly. ABS engineering plastic shell, strong and durable, long preservation life, can be used for a long time, without frequent replacement of sharpeners.
Golden Sharpening Angle
The sharpening head is designed with a 36° golden sharpening angle to balance the sharpness and durability of the knife, which can be done without damaging the knife.
Strong Adsorption
The base is a strong suction cup, only need to rotate to lock, one-handed operation, suitable for in the glass, quartz stone, marble and other smooth countertops, suction is strong, solid installation, you can safely sharpen the knife.
Easy Storage
Product size is small, storage does not take up space. At the same time the unique labor-saving design - small tail design, easy to unlock to pick up and protect the suction cup more durable.
Widely Used
Multifunctional knife sharpener for home use for fine grinding, polishing and deburring of knives. Chopping knife, slicing knife, chef's knife, fruit knife and other flat knife edge can be sharpened.
Specifications
Material: Steel sand + tungsten steel + ceramic + ABS + PVC + POM + 403 stainless steel
Size: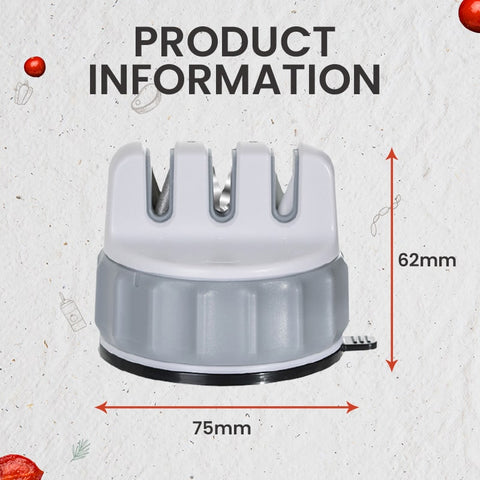 Weight: 105g
Package contens: Multifunctional Knife Sharpener For Home Use*1