?Are you still worried about thinning hair? Hair repair fibers instantly give you the appearance of thick and plump hair.
This hair fiber is made of natural plant fiber, which can immediately cover the baldness, sparseness and spots on the temples, parts, top and sides of the head. It can be interwoven with your existing hair for a completely natural look. These hair fibers have a natural "real hair" texture and perfect luster, making thin hair thick.

★6 Reasons To Buy It 
Main features
There are 9 shades, which can be used to match any hair color. If it accidentally touches the clothes, it will not be stained, just lightly pat it clean to remove it without leaving any traces.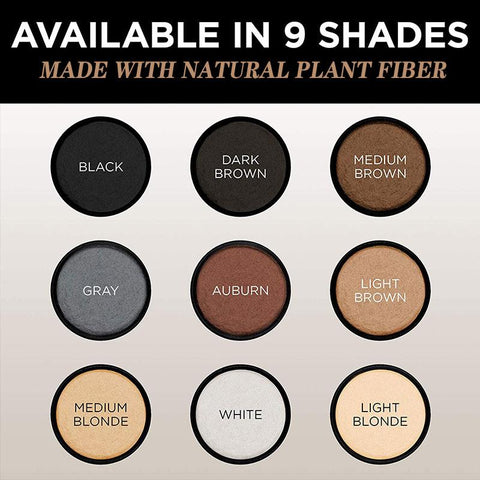 Super adsorption power, not easy to drop powder. Has excellent shaping ability. There is no need to panic in windy and rainy weather. Do not worry about sweating affecting your styling when exercising and fitness. It can be easily removed with shampoo.
Simple and convenient to use. Dry and shape as usual. Shake or spray on the sparse area and the fiber will immediately stick to your existing hair. Lightly pat the hair to disperse the fibers. Instant scalp coverage and a fuller finish that can last all day.
Safe and non-irritating. Using natural plant materials, it is fresh and has no peculiar smell. It is safe and harmless to human body. Suitable for all hair types.
Specifications

| | |
| --- | --- |
| Net weight | |
| Ingredients | Natural plant raw materials |
| Color | Black / dark brown / medium brown / light brown / medium blonde / light blonde / grey / white / Auburn |
| Package Contents | |
Note
The hair fiber is not growing hair, but through the principle of strong electrostatic induction, the hair fiber will be tightly attached to the real hair, and the hair will become thicker and thicker instantly, just like the new hair with countless roots. The effect is realistic and natural.

Since the fall of 2020, I have been dealing with thinning hair because an irresponsible stylist damaged my hair. I tried one treatment after another, and found that I was struggling with traction alopecia. Later I heard about this hair fiber, and when I tried it for the first time, I was surprised because it looked so natural and it was my hair!
- Christine Wilson