ENJOY THE CREAM DECORATING GUN KIT
You do not need to be a pro to decorate cakes, cupcakes, cookies, or fondants that look good enough to come from the cake bakery.
Now you can decorate cakes as easily as if you're writing with a pen. Easy to use, create any pattern any you like.

◆| 7 nozzles with different shapes
◆| Push operation - Easy to operate
◆| Easy nozzle head replacement
◆| The nozzle head storage warehouse on the side
◆| Side handle design - Can be operated with one hand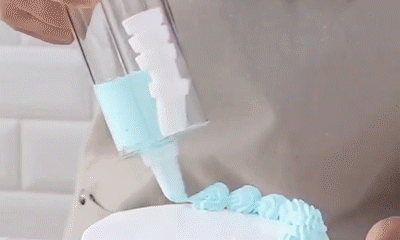 It arrived in well condition it was easy to assemble and easy to use. My cakes always tasted good but haven't always been overly pretty. And I always had a difficult time "writing" on cakes. Amazing, with this Cream Decorating Gun Kit, it was foolproof to produce perfect lettering each and every time. These make decorating so much easier for me than working with a bag. And it's super easy to use and easy to clean.

- Theresa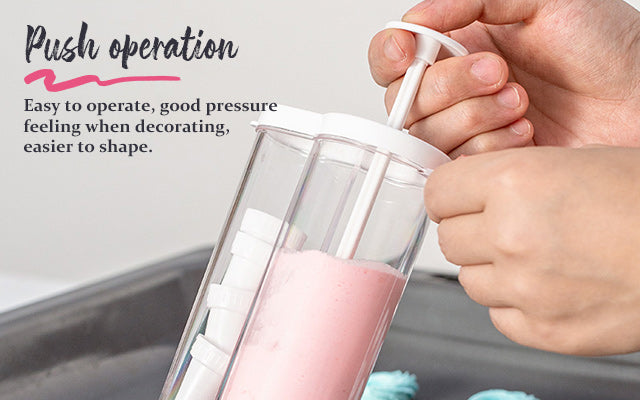 DESCRIPTION
►

【Safety Material】
Made of resin & polypropylene, which is safe, environmentally friendly. Transparent visible gun, clean, non-toxic, tasteless, safe, and healthy, environmentally friendly, durable, not fade or variant.
►

【Replaceable Nozzle】
Come with 7 nozzles with different shapes, easy to pull out different patterns. Simply screw the coupling on and off to change the nozzles. 
►

【Easy To Use】
Human mechanics handle design, easily produce a variety of attractively shaped biscuits. Removable design for easy cleaning after use, reusable, simple, and beautiful.
►

【Widely Use】
Use to fill and decorate your cupcakes, canoe cakes, dessert shells, deviled eggs, cannolis, scones, donuts, cream puffs and so much more!
►

【Perfect Decoration】
7 Pcs Nozzles Cream Decorating Gun Kit! This kit allows you to not only decorate the outside, but now you can put filling inside your cupcakes!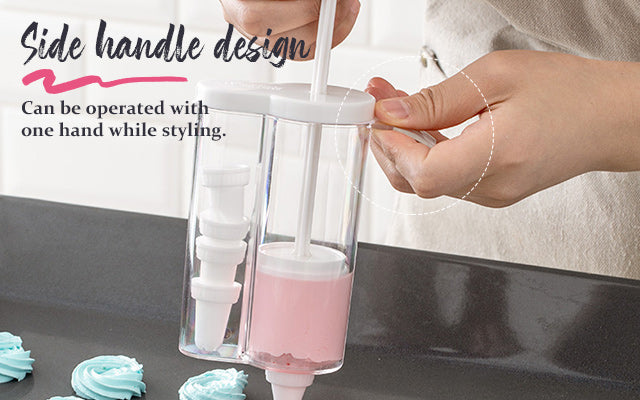 INSTRUCTIONS FOR USE OF NOZZLES
✔ Round - It can be used for interesting decorations such as text, edge decoration, dots, and lines.
✔ Flower Shaped - It can be used as decorations such as flowers, edge decorations, and meshes of rope baskets. Its advantage is that the scope of application is very wide.
✔ Shell Shaped - It is cut immediately after extrusion, and it can be turned into a round shell shape.
✔ Rose Shaped - Turn the wide edge mouth downwards, and repeat the shape of the petals to extrude the petals to become like a rose.
✔ Leaf Shaped - Put the mountain-shaped part in the center, squeeze it out, and let it go, it will become the shape of a leaf.
✔ Ribbon Shaped - There are many ways to twist, and some can squeeze out a cute ribbon.
SPECIFICATION
☛ Material: Resin & Polypropylene
☛ Color: White
☛ Package Weight: 117 g / 0.26 bl
☛ Nozzles Length: 3 cm / 1.18 Inches
☛ Product Size: 8 * 13 cm/ 3.15 * 5.12 Inches
☛ Container Size: 4 * 11.5 cm/ 1.58 * 4.53 Inches
☛ Package Includes:
- 1 * Cream Decorating Gun
- 8 * Different Shape Nozzles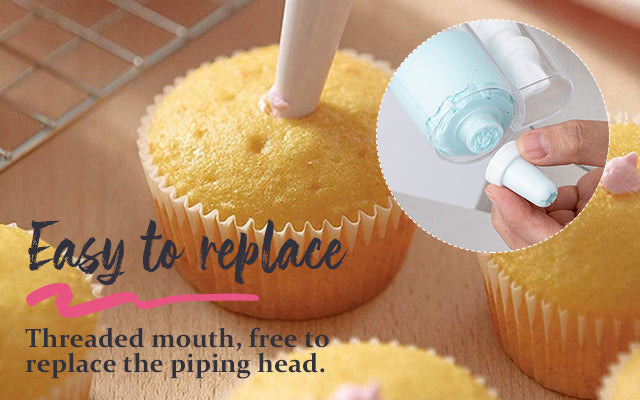 WARM TIPS
※ Due to manual measurement, the actual size of the product may be slightly different from the size marked on the picture.
※ We provide clear pictures, refer to our product pictures and sizes to make sure this is the product you need.