A fun and simple nail art sticker that gives you a unique look in seconds with different shiny colors from different lights and angles with just one click.
Main Features
Natural And Real
3D stamping three-dimensional design, real and natural nail effect, after using it is like going to a nail salon to have a manicure, to the point of fake. Your hands are also protected from the UV rays of the nail lamp.
Long-lasting
Durable, waterproof and chip-free, it fits your nails perfectly, lasts a long time and can be easily removed without the use of strong make-up remover!
High Quality
The product is made of eco-friendly resin ink, safe, non-toxic, environmentally friendly, does not give off unpleasant odor, harmless to your nails, easy to use for natural or artificial nails.
High Practicality
A wide variety of styles are available for you to choose from for various occasions, such as daily life, party, role-play, masquerade, summer beach, bar, etc.
Using Methods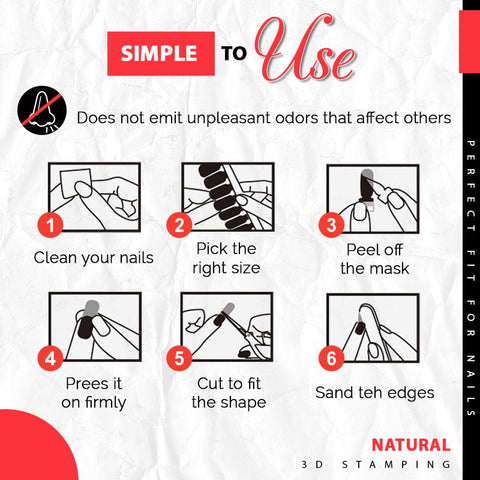 Specifications
Material: Eco-friendly resin ink
Size of package(W*L): 6.3*17cm
Weight: 6.5g
Style: #1, #2, #3, #4, #5, #6, #7, #8, #9, #10, #11, #12, #13, #14, #15
Package contents: 3D Stamping Nail Art Stickers*1 pack